Quality Sealcoating Products and Application in MN
Posted In: Asphalt Sealcoating
Published On: April 07 2020
Written By: Seal King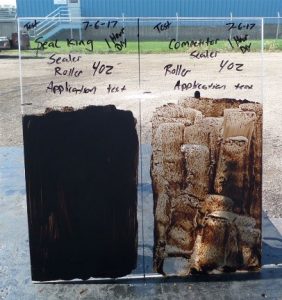 It's no surprise that many residents of Minnesota are constantly having problems with their asphalts. Whether you own a residential or commercial property and if you are not properly sealcoating your asphalt, it's likely that you are going to see major issues down the road (no pun intended). At Seal King Professional Sealcoating, we want your asphalt to last for many, many years. We work with both residential and commercial properties to provide quality sealcoating products and application. If you are searching for a sealcoating company that delivers substantially impressive results, call us here at Seal King Professional Sealcoating. We are the only Seal Coating company that apply's Hot Sealer to your asphalt after our patented 10 point application process! The picture to the left say's it all.
Quality Sealcoating Products
At Seal King Professional Sealcoating, we understand Minnesota weather. We know that we are going to get slammed every winter with heavy snow and ice. We also know that every summer, we see humidity beyond our ideals and a nice degradation of our roadways. Weather, sunshine and traffic all play a part in damaging our asphalt, causing cracks, potholes and sinkage. At Seal King professional sealcoating, we aim to stop that problem. In order to do that, the first part of our job is to provide quality, top of the line, sealants that work. Our products are always the nicest on the market. In order to get the perfect sealcoating, we use high performance additive, Raw products, and special blackening agents to keep your asphalt looking fresh. All of our products are stored in a safe, climate-controlled setting until we are ready to apply. When we are ready to use our sealer, we utilize a hot mixing process to make our sealants even better. We believe that we are the pioneers within the sealcoating industry, and we will always continue to search to apply the best sealer around.
Quality Sealcoating Application
When it is time to apply your sealcoating to your asphalt, we utilize a step-by-step process so that we can deliver quality work every single time. Our 10-point quality checklist covers all aspects of the job from start to finish. Any job we perform, whether it's a large parking lot or a small driveway, will only get the best from our reliable and trustworthy professionals.
We are so confident in our quality sealcoating products and application that we offer the Seal King promise. If you are not completely satisfied with our work, let us know before the end of the season and we will work to correct the issue at no cost. For more information about our services here at Seal King Professional Sealcoating in Minnesota, visit us online or give us a call today!