Ramsey Sealcoating Services
Posted In: Asphalt Maintenance
Published On: September 28 2016
Written By: Seal King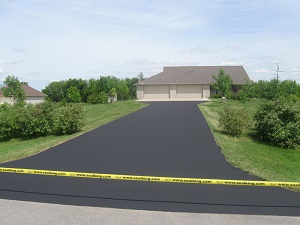 Seal King offers residential and commercial sealcoating services for many communities, including those in the Ramsey, Minnesota area.  Driving surfaces, especially those in extreme climates like Minnesota, take a beating over time.  If your home's driveway or your business' parking lot is in a state of disrepair, you need a seal-coating service that is affordable, known for its high-quality service, and works hard to create positive customer experiences.  Seal King works harder than most companies to create a positive, lasting relationship with its customers.  Seal King offers a large menu of services.  The staff can offer repairs to asphalt parking lots, asphalt pathways, potholes, cracks in asphalt, and asphalt line painting.
Commercial Sealcoating Services For Ramsey, MN
Seal King has earned its strong reputation based on its commitment to superior customer service, high quality asphalt repair, and desire to ensure that every customer understands the Seal King Promise.  If you own a business, or if you are a tenant in a building where your business is located, you will understand the importance of parking.  A parking area that is in good repair is necessary to the success of your business.  It's that simple—your parking lot offers a first impression to clients, patrons, and employees alike.  If you're a business owner who values your employees and wants to limit turnover, a well maintained parking area is one small but important sign of your commitment to them.  Patrons and other visitors to your business who are forced to use a poorly maintained parking lot will form opinions of your business in part based on their parking experience—first impressions are important.  These factors can affect your business's productivity.  A reliable and affordable seal-coating from Seal King will go a long way toward helping you feel that sense of assurance.
Seal King Promise
The Seal King Promise is important.  It states that customers will be treated well—respectfully and honestly.  That commitment is present in Seal King's pricing too.  Fairness in pricing is at the heart of their commitment  to providing excellent service.  If you are not satisfied with Seal King's work, all you have to do is contact the company that did the work for you and they will respond to the issue forthwith.
When you contract with Seal King, you will be working with a company that wants your business to succeed.  The extremes of Ramsey, Minnesota weather ensure that parking lots and driveways will need periodic repair and resurfacing.  So whether you need simple maintenance with a new seal-coating or more extensive repairs to your business's parking lot, contact Seal King. Sealcoating will protect your asphalt from the elements and keep it looking its best.  Give us a call today at (651) 210-1745 to request a free quote!