Reasons To Consider Sealcoating
Posted In: Residential Sealcoating
Published On: June 10 2022
Written By: Seal King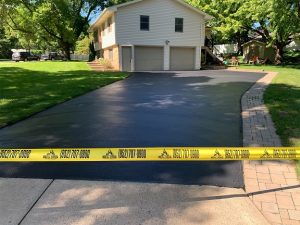 Have you ever looked closely at your driveway? If it is several years old, and you look closely, you may notice discoloration, some small cracks in areas and a change in texture. It may look brittle, worn and even stained in spots. As untreated asphalt ages and is continually exposed to the elements (including sun, rain, snow, ice), it will begin to look weathered. The cracks can get larger and larger and become potholes that are unsafe for your vehicle to drive over and unsightly for your guests.
Benefits Of Professional Sealcoating Services
Treating your asphalt driveway with high quality sealer can protect the area from discoloration, cracking and normal weathering and keep it looking its best. Seal King specializes in professional sealcoating services for residential and commercial properties. Sealcoating protects your asphalt and will keep water from getting underneath the surface and causing cracks and holes.
Seal King uses some of the very strongest and best sealers on the market. We take the time to custom blend our unique and exclusive Seal King sealer. We use only the best raw products and high-performance additives and blackening agents. Each batch of our custom sealer is carefully blended together using state of the art mixing equipment and pumps so that the mix we produce is precise and high quality. We never take shortcuts when it comes to the products we use or the process we follow when we apply the sealer on your asphalt. This is what has helped us build our reputation in the area and helps us stand out from the competition.
Sealcoating Promise
There are many Seal Kings in the Minnesota, Iowa and Wisconsin area and all abide by the Seal King Promise, which means that we stand behind our work and want you to be fully satisfied with the job you hire us to do. If you are not satisfied with a sealcoating job, simply contact us and we will make it right.
Sealcoating is a wise investment in your residential or commercial property. It will keep your driveway, sidewalks and other asphalt surfaces looking new, clean and crisp. No more cracks and holes to navigate, or discolored areas that detract from the overall appearance of your property. Seal King offers affordable pricing, unmatched attention to detail and professional service that stands out to our customers. For more information about professional sealcoating services, reach out to one of our many convenient locations near you!