Reliable, Affordable Asphalt Maintenance Company
Posted In: Asphalt Maintenance
Published On: August 05 2018
Written By: Seal King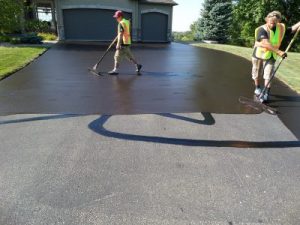 As a homeowner, there's a lot to maintain in order to ensure that your property stays in tip top shape. Yes, even your asphalt. If the asphalt on your property has become worn down due to aging, weathering, heavy traffic, etc., teaming up with an asphalt maintenance company is an affordable option to consider. By choosing to partner with Seal King Professional Sealcoating, we'll have your asphalt well maintained year around thanks to our top notch sealcoating services. Using a quality sealcoating company does not cost you more then doing it yourself.
Effective Sealcoating Maintenance
Over time, asphalt can breakdown, causing cracks and even potholes to occur. Tough weather, excessive sunlight and heavy traffic on your asphalt are key reasons why it breaks down over time. One great way to maintain your asphalt and keep it protected from the elements is to invest in effective sealcoating maintenance. Not only will sealcoating keep your asphalt protected, but it will help it continue to look like new as well. To ensure that all of our clients get the most effective sealcoating maintenance on their asphalt, we follow our proven 10 step sealcoating process which includes power edging, sweeping, blowing, oil spot treatment, crack and joint filling, Seal King sealer, etc.
Experienced Asphalt Maintenance Specialists
At Seal King Professional Sealcoating, we've been an asphalt maintenance company for 27 years. During this time, we've not only mastered the asphalt maintenance process, but we've made sure to always keep our clients happy at all times. There are plenty of other asphalt maintenance companies that may try and trick you into their inferior work with a misleading coupon or discount. The unfortunate news is that their clients often have to call them back regularly because the materials and processes used are inferior. Our experienced asphalt maintenance specialists get your job done right the first time around. For added peace of mind, we even offer the Seal King Promise. If you are not totally satisfied with our asphalt maintenance services, give us a call before winter and we'll come make sure that any issues you have are resolved.
Reliable, Affordable Asphalt Maintenance Company
So, if the asphalt on your property is becoming an eyesore and it's simply not holding up well against Mother Nature, it's time to find a reliable and affordable asphalt maintenance company. At Seal King Professional Sealcoating, our experienced asphalt maintenance specialists are eager to provide you with effective sealcoating maintenance that can't be matched. To find a Seal King location nearest you, visit www.sealking.com.