Reliable Residential Sealcoating Experts
Posted In: Asphalt Sealcoating
Published On: February 07 2021
Written By: Seal King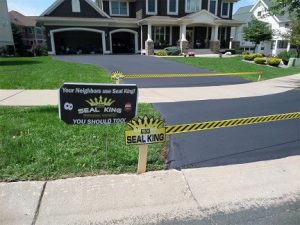 Enhancing and strengthening your residential driveway doesn't mean you have to replace the asphalt. Asphalt replacement is a costly repair that you can likely avoid. At Seal King Professional Sealcoating, our dedicated experts are proud to offer a much more affordable option that can provide our clients with reliable results. There is no better time than now to take advantage of our reliable residential sealcoating applications that will strengthen and revitalize the look of your driveway.
There are some sealcoating companies across the region that offer sealcoating applications but aren't backed by a proven track record in the industry. Our team on the other hand, has been providing residential sealcoating services since 1991. Over these 30 wonderful years, we have worked on residential driveways in all conditions. With an attention to detail, use of high-performance sealcoating products, access to advanced sealcoating technology and a strong focus on customer satisfaction, our clients stay loyal to us whenever work is needed.
Asphalt Protection
Our sealcoating services are known to not only boost the curb appeal of your driveway, but to also add protection as well. When it comes to weathering, sunlight damage and regular vehicle traffic on your driveway, our reliable residential sealcoating services will help protect your asphalt now and in the future. The wear and tear on your driveway will slow down thanks to this affordable asphalt protection. A sealcoating application from our team will also protect your driveway from oxidation, cracking and oil or gas spills. Our residential sealcoating application focuses on a proven 10-step process that is highly effective.
Driveway Sealcoating With A Promise
What really sets our staff apart from the other residential sealcoating providers in the area is that our sealcoating is backed by a promise. If after your reliable residential sealcoating project is complete, you are not completely satisfied with the work we provided, we will work to resolve your issue at no additional cost. Just make sure to contact us about your issue before winter for this to apply.
Ready to enhance and strengthen your existing residential driveway without having to replace your asphalt? Our reliable residential sealcoating experts at Seal King Professional Sealcoating proudly offer an affordable sealcoating application that will boost the look of your driveway and keep it protected in the future. To find a Seal King location nearest you, visit www.sealking.com today.