Repair Your Driveway This Spring
Posted In: Driveway Repair
Published On: April 08 2023
Written By: Seal King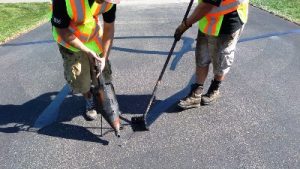 It is once again the season we all look forward to: Spring. In the upper Midwest, it may take some extra time for real spring to arrive, but there is no doubt that we are coming out of the ravages of winter and into the time when it is once again possible to be outside and make improvements to our homes. Even with a relatively mild winter, this part of the country still experiences extremes of temperature and weather. So even if your driveway has not had to be plowed multiple times and scraped by the heavy, damaging metal plow, it has still been under assault by rain, ice, and temperature fluctuations, all of which wreak havoc on asphalt surfaces. Seal King is ready to get your damaged driveway back to the way you like it.
Driveway Repair And Professional Sealcoating
It is true that a snowplow, or even a manually operated snow shovel, can make minor damage to a driveway more severe. Scraping cracked and fractured asphalt with a metal object will never improve the condition of the surface. Seal King has developed our strong reputation by repairing and resurfacing damaged driveways with efficiency and, of course, the highest quality.
Striving for and maintaining the highest quality is a core value of the Seal King company, and you will find this commitment in each of our franchises. We use only the highest quality materials for our sealant and will also provide excellent service to our customers. Of course, we have these high standards, but we also strive to be a responsible and valued member of the community. Our Seal King employees are members of the community, and possibly even your neighbors, and we are committed to treating our employees and our customers with respect and professionalism.
Professional Sealcoating Services
The Seal King Promise describes our values in detail. The Seal King Promise means that we will perform the services you have contracted us to perform, explain the process at every step, and ensure that you are satisfied with the outcome of our work. Because we have performed these services for so long, efficiency is built into our work. We can provide a better product in a shorter amount of time than similar companies because we know our business so well.
We have Seal King locations scattered all over Minnesota, Wisconsin and Iowa so you will not have any trouble finding a location near you! Now that the snow is melting, temperatures are rising, reach out and we will help you make sure your driveway is ready for the spring and summer months!