Repairing Vs Replacement Of Asphalt Surfaces
Posted In: Asphalt Maintenance
Published On: February 04 2023
Written By: Seal King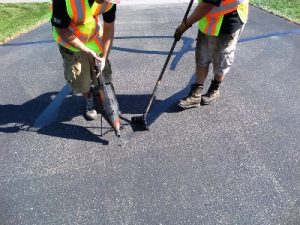 Asphalt pavements will begin to show wear over time. Potholes, cracks and crumbling edges are not only unsightly but also dangerous to drive on, walk or play on. Potholes, cracks, crumbling edges and uneven surfaces can also be a safety hazard for business owners.
Paving over old asphalt can be tempting. It seems quicker, easier, and more affordable. It's better to remove the old asphalt if you don't want to do it again in a few more years. To be able to withstand foot and vehicle traffic, asphalt needs a solid base. A sign that the foundation is not structurally sound if it cracks, develops potholes, or starts to crumble. While a small crack may be repaired, serious damage can lead to asphalt removal.
Asphalt removal and Paving: In a process known as milling, the old asphalt is first removed completely, including any sub-base. Most often, old asphalt is collected and recycled into asphalt. The surface is then graded to create a level foundation and gravel laid to promote drainage. The surface layer is then laid with a layer of compacted asphalt, and crushed asphalt. The surface is then compacted and smoothed. After the pavement cools, it is ready to be driven, walked, or played upon again.
Asphalt resurfacing: Resurfacing asphalt may be an option if it is in good condition. Resurfacing can extend the life of your investment by a few years if there isn't any major damage. While it may seem like there are a few cosmetic problems and cracks, a structural problem may be hiding behind them. While resurfacing can be a great option for some pavements, it is not the best solution for all.
Sealcoating To Protect Your Investment
Regardless of whether you repair your asphalt surface or replace the asphalt altogether, sealcoating ensures that your investment remains functional and looking good for many years. Some of the primary benefits of sealcoating regularly include:
● Providing protection from oils and gasolines – petroleum-based products tend to bind with the chemicals in asphalt binding agents and will lead to premature cracks.
● Reduced oxidation-related degradation by acting as a UV-blocker from the sun's harmful rays.
● Acting as a water-proof barrier to prevent water from seeping into the asphalt and underlying soil structures.
● Improved flexibility – allowing for less rigidity when supporting heavier vehicles and trucks and slowing the drying process.
Best Choice For Asphalt Repairs
We know that there are many options when it comes to asphalt repair services. That is why we strive to be different from other local companies. It's easy to find a location close to you, with locations in Minnesota, Wisconsin, Iowa. We guarantee that you will be satisfied with the work of Seal King. Reach out to your local Seal King if you have any asphalt repair or seal coat needs.