Residential And Commercial Sealcoating Services Western WI
Posted In: Commercial Sealcoating
Published On: November 04 2022
Written By: Seal King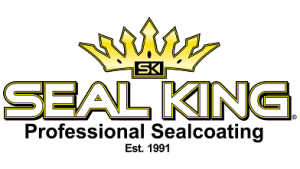 Seal King protects and beautifies your most expensive investments. For most people, their most expensive investment is their home. If you own a home and also own and/or run a business in western Wisconsin, you may have two major investments. If your business is the brick-and-mortar type, that relies on customer traffic, a parking lot is almost always necessary to facilitate a successful business day. In either case, Seal King Professional Sealcoating can add value to your most expensive and important investments.
Professional Sealcoating Services In Western WI
There are many advantages of a residential driveway that is protected by Seal King, including adding curb appeal to your home, ensuring that the driveway surface is smooth and less likely to be the cause of injury, and adding real value to the monetary value of the home. Each of those examples adds to the satisfaction of living in your home, but they take on greater importance if and when you decide that it is time to sell your home.
Parking Lot Sealcoating Company Western WI
The advantages of a commercial parking lot that is protected by Seal King are also numerous. A parking lot that is deep black and shining as a result of our sealcoating process sends a message to prospective customers that you value their experience when they visit your business. If the visual appeal of your storefront is enhanced by a Seal King professionally seal coated driveway, not only does it look better to customers, it means that the parking lot is free of cracks, fissures, holes, gaps, and loose, fractured edges that can result in a turned ankle or a nasty fall. We understand that owning a business is full of risks, and we understand that responsible business owners work hard to minimize risks that could negatively affect their success. A parking lot serviced by our technicians is one that inspires confidence in prospective customers.
High Quality Sealcoating Services Western WI
It is also important to note that the Seal King process of sealcoating is different from other sealcoating services. We use only the highest quality materials, which are designed to be stronger and more durable. For people in western Wisconsin who take their investments seriously, strength and durability is appealing because it will last for many years, rather than simply being a quick fix.
Seal King has locations all over the area, and we look forward to the opportunity to serve you, whether at your home or at your business.