Residential Asphalt Sealcoating Process From Lakeville, MN
Posted In: Asphalt Maintenance
Published On: March 31 2021
Written By: Seal King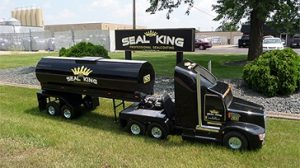 Established in 1991, Seal King Professional Sealcoating has seen a lot of different ways that the sealcoating process can be done. We've seen pop up schemes, add on services, and sealers that just simply did not last. It is with this knowledge and experience that we can proudly offer the best of the best. With custom-designed equipment for residential seal coating, experience that comes with serving over 150,000 customers, and industry leading sealers, you cannot go wrong with Seal King Professional Sealcoating.
Seal King Beginning
Our residential asphalt sealcoating process starts long before we ever get to your property. Our Seal King Sealer goes through a rigorous hot mix sealer process that allows for a beautiful result every single time. As a pioneer in the sealcoating industry, we have the absolute best products that are on the market, yet we continually search for new products and new techniques to give our customers the very best result possible. Seal King Sealant is made up of the very best Raw products, high performance additives, and special blackening agents, keeping your driveway looking brand new. The results of Seal King sealer far outlast any other sealcoating service out on the market today.
Seal King Process
Through our years of experience, we have found that no matter how good your sealant may be, quality results always depend on the execution. For this reason, our professionals at Seal King Professional Sealcoating follow an infamous step by step process anytime we are performing residential asphalt sealcoating. These steps include:
1. Power Edge the area.
2. Blow and clean off the power edge areas.
3. Power sweep and blow the entire space.
4. Oil spot treatment for any problem areas.
5. Apply 400 degree rubber crack filling to problem areas.
6. Apply 400 degree joint filling to problem areas.
7. Utilize a driveway edging brush to ensure clean lines and the best results.
8. Apply the professional Seal King Sealant.
9. Perform the brush application.
10. Barricade the driveway until it's ready for use.
Utilizing these 10 steps for the residential asphalt sealcoating process ensures the best results possible for our customers. Sealcoating is a great way to keep your driveway looking new and fresh. It protects your driveway from weather, sunlight and traffic and gives your property a clean, more finished look. If you are ready to get the most out of your sealcoating service, give us a call today. Contact Seal King Professional Sealcoating in Lakeville, MN today at (952) 469-6639.