Residential Asphalt Sealcoating Services In Minneapolis
Posted In: Minneapolis
Published On: July 08 2021
Written By: Seal King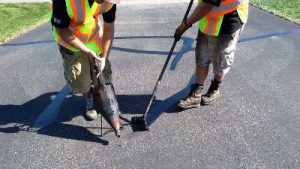 As the blazing heat covers our homes and the summer sun hits our driveways, it's clear to see that not all driveways are created equal. In fact, some look much better than others. At Seal King Professional Sealcoating, we want your home to be one of the "better looking" driveways. That is why we offer quality residential sealcoating services to our wonderful Minneapolis, MN community. If you are looking to give your driveway both the added protection and beautification that it needs, Seal King Professional Sealcoating can help.
Why Sealcoating?
Asphalt driveways are commonly used in Minneapolis. They are both attractive and functional. However, as the asphalt ages, changes in its color and texture begin to occur and Minnesota weather does not do it any favors. Factors like sunlight, inclement weather and traffic, will slowly alter the appearance of your once very beautifully dark driveway. Not only does the aesthetics fade, but the function of your asphalt driveway does too. Your asphalt eventually becomes more brittle and prone to cracking. This, of course, leads to potholes and large crevices in your driveway. Sealcoating helps to slow down the asphalt aging process and keep your driveway looking fresh and new. Not only does it help with aesthetics, but it also protects your driveway from the aforementioned elements.
Why Seal King?
At Seal King Professional Sealcoating, we are your professional experts for all things sealcoating. We always use the best products and techniques available on the market and we are always looking for better ways to make your coating last as long as possible. To ensure we give the best results to our customers, our process is broken down into steps that our professionals follow meticulously. From the prep work of power edging and cleaning to brush application and barricading the driveway for curing, our sealcoating process is thorough and complete so that you can enjoy the best results possible. While you see all of the work that's being done while we are on your property, our work begins way before we even arrive. We custom blend our exclusive Seal King Sealer so that your driveway is sure to get the best coating possible. Using the best Raw products, high performance additives, and special blackening agents, our results beat out any competitor's coating. As we carefully blend our ingredients together, utilizing hot mixing equipment and pumps, we keep our customers in mind, aiming to give them the perfect sealcoating application possible.
For more information about our residential asphalt sealcoating services in Minneapolis, feel free to give us a call today. Contact Seal King Professional Sealcoating in Minneapolis, Minnesota today at (952) 469-6639.