Residential Asphalt Services
Posted In: Commercial Asphalt Sealcoating Services
Published On: June 29 2020
Written By: Seal King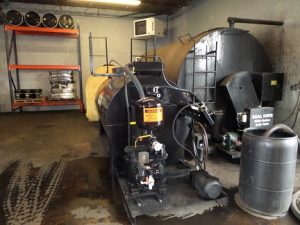 At Seal King Professional Sealcoating, we are no stranger to your asphalt. Since 1991, our mission here at Seal King Professional Sealcoating has been to create the highest quality product and to pay the greatest attention to detail and provide quality, professional asphalt services to all of our community. Asphalt services aren't just a part of what we do. We live and breathe asphalt services. So, if you are looking for residential asphalt services in your area, Seal King Professional Sealcoating is the only place you need to call. We also sealcoat with "Hot Mix Sealer". No other sealcoating company can do this as we have patented this product and we do not resell it or make it available to any other sealcoating companies.
Residential Sealcoating Services
When it comes to sealcoating, why call anyone else? Afterall, it's in our name! At Seal King, we are your leading experts in the field of sealcoating. We mix and apply the highest quality products on the market, allowing for the strongest, most aesthetically pleasing sealcoating jobs. Our Seal King process is made so that we never miss a step from beginning to end resulting in a perfect seal every single time. Our goal is to protect your asphalt from the many factors that break it down. Weather, sunlight, traffic and other chemicals all can negatively impact your space. With Seal King's residential sealcoating services, we keep it looking beautiful for many, many seasons.
Garage Apron Repairs
No matter who originally may have paved the way for your asphalt, Seal King Professional Sealcoating is here to help should it begin to fail. Garage aprons are a frequent area that can either settle or become eroded over time. At Seal King, we have a step by step process allowing sunken aprons to be repaired and replaced once again. Imagine being able to smoothly drive into your garage once again. At Seal King Professional Sealcoating, we make this an easily achievable reality.
Other Asphalt Services
Whether you have a pothole in your asphalt or a large crack heading down your driveway, Seal King Professional Sealcoating is here to help. Our professionals are trained to perform all types of repairs or simple seals to help reinforce areas of weakness. Waiting for your problem to get worse should never be an option. At Seal King Professional Sealcoating, let us keep your home asphalt staying strong and lasting for a long time to come.
For more information about Seal King Professional Sealcoating and our residential asphalt services, give us a call today. To find a location nearest you, visit www.sealking.com.