Seal King Franchise Opportunities: Paving the Way to Success in Iowa and Wisconsin
Posted In: Driveway Sealcoating
Published On: November 04 2023
Written By: Seal King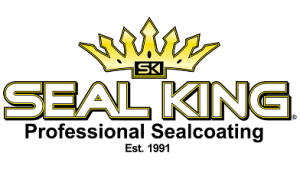 Are you an entrepreneur looking for a lucrative business opportunity in the Midwest? If so, look no further than Seal King! With over 30 years of experience in the pavement maintenance industry, Seal King has become a trusted name in asphalt sealing and repair. Now, we are excited to offer franchise opportunities in the beautiful states of Iowa and Wisconsin. In this blog post, we'll explore why becoming a Seal King franchisee in these regions is a wise investment and how you can join our winning team.
Thriving Pavement Maintenance Industry Iowa & WI
Before diving into the specific benefits of owning a Seal King franchise in Iowa or Wisconsin, let's first consider the industry itself. Pavement maintenance is a thriving market with a consistent demand for high-quality services. Roads, parking lots, driveways, and other asphalt surfaces require regular maintenance to ensure longevity and safety. As a Seal King franchisee, you'll tap into this steady demand while offering top-notch solutions to your customers.
The Seal King Advantage
Proven Business Model: Seal King's business model is time-tested and proven. Our franchisees benefit from a comprehensive training program that covers every aspect of the business, from equipment operation to marketing strategies.
● State-of-the-Art Products: Seal King's proprietary sealant formulas are renowned for their quality and durability. You'll have access to these premium products, ensuring that your customers receive the best possible service.
● Marketing Support: We provide our franchisees with effective marketing materials and strategies to help them build a strong local presence. Our national brand recognition will also work in your favor.
● Ongoing Support: Our support doesn't stop after training. We offer continuous assistance to franchisees, including operational guidance and technical support, ensuring your success.
Why Iowa and Wisconsin Sealcoating?
Untapped Markets: Iowa and Wisconsin present untapped markets with significant potential for growth in the pavement maintenance industry. These states offer a blend of urban and rural areas, making them ideal for Seal King's services.
● Seasonal Demand: Both Iowa and Wisconsin experience harsh winters, resulting in substantial wear and tear on asphalt surfaces. This translates to seasonal spikes in demand for pavement maintenance, providing franchisees with ample business opportunities.
● Community-Focused Culture: Seal King values community involvement and prides itself on building strong relationships with local businesses and customers. Iowa and Wisconsin communities share this same focus, making them an excellent fit for our franchise model.
Sealcoating Franchise Opportunity Iowa & WI
Seal King's franchise opportunities in Iowa and Wisconsin offer a chance to enter a thriving industry with a reputable brand. With our proven business model, exceptional products, and ongoing support, you'll have the tools needed to succeed. If you're ready to take the next step toward entrepreneurship and join a winning team, consider becoming a Seal King franchisee in Iowa or Wisconsin. Contact us today to learn more about this exciting opportunity and secure your future in the pavement maintenance business. Your journey to success starts here with Seal King!