Sealcoating Application Company
Posted In: Commercial Asphalt Sealcoating Services
Published On: August 14 2017
Written By: Seal King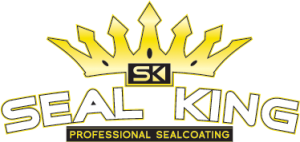 Far too often, the asphalt on a property weakens and breaks down without the property owner ever noticing. Owning a residential or commercial property in MN, IA or WI requires you to focus the majority of your attention to the structure of your home or office. There are so many repairs and projects that you must take on over the years. If you've noticed that the asphalt driveway or parking lot on your property is in bad shape, it is important for you to get things repaired before things get worse. Additionally, there is no need for you to jump to the conclusion that you'll have to spend tons of money replacing the parking lot or driveway entirely. Instead, our team at Seal King Professional Sealcoating offers affordable sealcoating applications that can strengthen and revitalize the look of your parking lot or driveway.
Commercial Sealcoating Applications
First impressions go along way with any business. Don't let the state of your company's parking lot be the reason you miss out on a potential new client. Through our affordable sealcoating application, we can get rid of the cracks and potholes that cause your clients fits. Additionally, our proven sealcoating application will bring an entirely new look to your parking lot, without having to pay for asphalt replacement. Living in MN, IA or WI means that you regularly experience tough weather throughout the year. Our sealcoating application was built with this type of climate in mind.
Residential Sealcoating Applications
Do you hit that same pothole in your driveway every day when you go to work? Eventually, that could cause some serious damage to the tires on your car. Maybe your kids are begging you to do something about the cracks that they continuously trip on while playing basketball in the driveway. Don't let your aging and poorly functioning driveway bring down the overall look of your home. Instead, by investing in sealcoating applications from Seal King Professional Sealcoating, your new and improved driveway will boost the overall curb appeal of your home!
When it comes to finding a sealcoating application company in MN, IA and WI that provides high quality products, top of the line customer service and the Seal King Promise, there's no better option to choose than Seal King Professional Sealcoating. Take advantage of our affordable sealcoating applications that work on both commercial and residential properties. To learn more about how we can strengthen and revitalize the look of your asphalt, visit our website, www.sealking.com to find a Seal King location nearest you!