Sealcoating Contractor in Iowa
Posted In: Asphalt Maintenance
Published On: October 25 2018
Written By: Seal King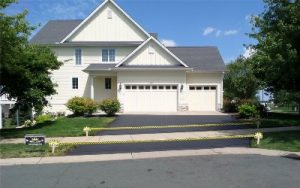 Has the asphalt on your residential or commercial property seen better days? Asphalt may not be the first thing that comes to mind when you think about properly maintaining your property, but it is definitely something that should not be ignored. Many property owners in Iowa put off asphalt repairs and maintenance simply because they think that asphalt replacement is their only option. Asphalt replacement can be extremely expensive. The good news, however, is that our team at Seal King Professional Sealcoating offers sealcoating applications that are much more affordable for property owners. As a sealcoating contractor in Iowa, we're eager to evaluate your asphalt and help bring a whole new look to your asphalt at just a fraction of the cost.
Sealcoating Provides Instant Curb Appeal
One of the best parts about our sealcoating applications is that they can instantly boost the curb appeal of your property. Whether our sealcoating application is being applied to your driveway or a parking lot, you'll be able to achieve a brand new look when it comes to the asphalt on your property. Over the last 25 years that our experienced team has been providing residential and commercial sealcoating services, we've continued to please our clients with the new look of their property. Now, when guests or clients come visit, they'll be impressed by your freshly sealed asphalt.
Not your Average Sealcoating Contractor
There are plenty of sealcoating contractors in Iowa, but none that can compete at the level of our highly trained staff at Seal King Professional Sealcoating. Experience is one attribute that we're proud of, but it doesn't stop there. Additionally, we utilize the highest quality sealcoating materials so that your asphalt will be protected for the long haul. Those other sealcoating contractors that utilize weaker materials often have to reseal their work just a few seasons later. By choosing Seal King Professional Sealcoating, however, you gain access to the Seal King Promise. If you are not totally satisfied with your sealcoating application by the winter, just reach out to our staff and we'll come back to your property to make things right.
Sealcoating Contractor in Iowa
At Seal King Professional Sealcoating, we take pride in being a leading sealcoating contractor in Iowa. If your residential or commercial asphalt has broken down and needs a facelift, our sealcoating application is the perfect choice. Rather than spending lots of money on asphalt replacement, it's time for you to learn more about sealcoating as a more affordable option. To contact the pros at Seal King just look in the right hand corner of this website for "Find a Location Near You". It's that simple!