Sealcoating Contractor Minneapolis
Posted In: Asphalt Maintenance
Published On: October 20 2018
Written By: Seal King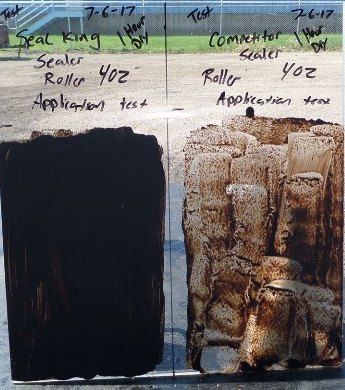 Snow is in the forecast, it has been rainy more days than not and your blacktop pavement may be paying the price. Have you taken a good look at your parking lot or driveway lately? An experienced sealcoating professional can spot areas where surface damage may result further deterioration over the coming months. Road salt, sand and chemicals that are used to make roads safer in the winter are also hard on asphalt pavement. Sealcoating works to protect the asphalt and stop weather damage. Not all seal coat materials are created equal. It is important that you choose a sealcoating contractor that applies only the highest quality materials with no harmful chemicals. Seal King is proud to provide all of your asphalt needs with the highest standards. We use the best products and techniques available to ensure the best results possible for any sealcoating job. Trust the professionals at Seal King.
Several years ago it was not uncommon for seal coat products to contain coal tar. Some sealcoating companies were applying a coat that may have had large amounts of toxic chemicals. The Minnesota Pollution Control Agency has urged the sealcoat industry to transition to a safer sealcoat product that reduces or eliminates the use of coal tar. Seal King is an ethical sealcoating contractor that has pledged to use only materials that are safe for consumers and the environment. The custom blend is not only safer it is also better than before.
Sealcoating Stops Weather Damage
A great way to prevent weather damage to asphalt in a four-season climate like Minnesota is by applying a protective sealer. Asphalt driveways, lots and paths should be seal coated by a professional for maximum protection from the elements. Crack sealer may be applied to fill in small cracks prior to the hot mix sealer going on. Larger cracks may need to be patched up. Application of the highest quality sealcoating mixture can prevent the damaging effects of water penetration during the freeze/thaw cycle. The results of a Seal King sealcoating application look awesome and stops weather damage in its tracks.
Professional Sealcoating Contractor
There is no substitute for quality and professionalism. Seal King technicians go above and beyond to earn your trust and lifelong business. Our custom blend of asphalt sealer is made using the highest quality, best performing raw materials that are safer and better than the competition. As a professional sealcoating contractor, Seal King holds ourselves to the highest standards. See what your local Seal King professional can do to protect your parking lot and driveway from weather damage.