Sealcoating Difference
Posted In: Asphalt Maintenance
Published On: July 30 2017
Written By: Seal King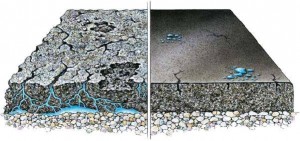 As asphalt ages it is inevitable that repair will need to happen. In Minnesota where each season experiences extreme temperatures and weather, asphalt is under more pressure compared to most states. Many factors will wear down your asphalt including, moisture, freeze, sunlight, traffic and exposures to the elements. As time goes on, your asphalt will need to be repaired in order for your asphalt to be long-lasting, otherwise if your asphalt becomes too damaged it will need to be replaced earlier and will be more costly. When it comes to maintaining your home, keeping your asphalt in good condition is one of the many things you need to do, and that is why you want to rely on a company you can trust to do the job right.
When you are looking for a reliable Minnesota sealcoating company, Seal King is here to assist you whether you are a residential home and need a small repair, a small business, commercial space or industrial facilities, we are here to make you a happy customer.
We have worked with numerous companies across the Twin Cities and throughout Minnesota and are here to help you. Sealcoating is an essential part of maintaining your asphalt, and is necessary to have done throughout the life of your asphalt. Sealcoating helps the longevity of the asphalt life by protecting it from the elements. Not only does sealcoating help make your asphalt functional it also looks great. For best results, a commercial-grade sealer should be applied using a spray method, which makes it an even coat, every two years.
With 26 years of experience, we have the experience, staff, and technology to make us a leader in the industry. As asphalt is expensive to lay, it is important to maintain your asphalt to help prolong it's life and allow you to save money over time. When done properly, sealing your asphalt pavement will protect it from the sun's harmful UV rays which causes oxidation, making the pavement dry out and become brittle. It will also protect it from harmful chemicals that deteriorate asphalt.
Seal King's success and hard work has allowed us to spread our franchise throughout Wisconsin and Iowa, allowing more people to receive the proper care and customer service that they deserve. Sometimes people are misled into believing asphalt sealcoating is only for aesthetic purposes. Professional grade sealcoating not only beautifies, but it extends the life of your asphalt investment by making surface more resistant to deterioration from gasoline, oil, and chemicals.