Selling Your Property? Make A Good First Impression
Posted In: Driveway Sealcoating
Published On: April 15 2023
Written By: Seal King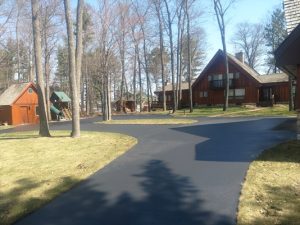 Are you thinking about selling a commercial or residential property? If so, you are probably thinking about doing a major clean up, maybe purging some items you do not want to move and, of course, thinking about ways to get the best possible price for your property. Curb appeal is one very important part of selling a home or property. You want to make sure that the first impression of potential buyers is a good one.
Your driveway and/or any asphalt surfaces that lead to your property can be an eyesore if it is cracked or discolored and it can even be a safety hazard. The staff at Seal King can make sure that your driveway and asphalt surfaces look clean, smooth and inviting. After we make any necessary repairs to your asphalt, we will use a custom-made high-quality sealant that fills any tiny holes in your asphalt and protects it from the harsh Minnesota elements.
Benefits of Professional Sealcoating
Our professional sealcoating service is affordable and will make a huge difference when it comes to the look of your driveway and asphalt surfaces. Over time, sun and moisture can damage your asphalt surfaces, causing cracks and even potholes to form. These will grow bigger and bigger, causing a safety hazard if you do not have it repaired. Sealcoating offers a protective coating for your asphalt surface that does not allow water to penetrate and cause additional cracks and holes. Sealcoating will also protect the asphalt from discoloration and changes in texture that can come from intense sunlight. Other companies may claim to match our quality, pricing and service, but they often cut corners and use lower quality sealant, which compromises the final product.
High Quality Sealcoating Services
Seal King started as a tiny business based in Minnesota over thirty years ago. Our founder started the business in his garage, and it has grown significantly over the last three decades, expanding to franchises in Iowa and Wisconsin. Now, you can easily find a Seal King conveniently located near you, but we have never lost our commitment to our customers. That's what we call our Seal King Promise. You can count on our team to provide you with high quality services, professional, courteous service and competitive prices.
So, if you are looking to sell your home this spring, make sure that your driveway does not detract from your property. Our professional sealcoating services can help you make a great first impression on your potential buyers!