Signs it is Time for Sealcoating
Posted In: Commercial Sealcoating
Published On: May 10 2019
Written By: Seal King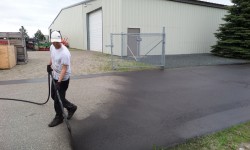 If you have a residential or commercial property in Duluth, MN, have you taken time to give the asphalt on your property a true evaluation? Over the years, asphalt wears down and the slick look that once existed is no longer present. Sealcoating is one great way to revitalize the look and strength of your residential or commercial asphalt. The question that our sealcoating experts at Seal King Professional Sealcoating often get from potential customers is what are the signs it is time for sealcoating? Well, our team is here to share with you the common signs to look out for when it comes to the asphalt on your property.
Asphalt Damage
Whether you are dealing with a driveway or parking lot, asphalt breaks down over time and damage is caused. Common types of damage that are signs it is time for professional sealcoating on your Duluth, MN property include cracks and potholes. Don't assume that replacing your asphalt is the only option to fixing this type of damage. Instead, let our experienced professionals at Seal King Professional Sealcoating provide you with elite sealcoating services to help with your asphalt damage.
Worn Down Look
Another common sign that it is time for sealcoating is when your residential or commercial asphalt looks old and worn down. Tough weather and lots of sunlight in Duluth, MN can cause the fresh look of your original asphalt to disappear and fade. Thanks to our high quality sealcoating materials and experienced sealcoating professionals, our sealcoating application can bring a brand new look to your driveway or parking lot. The great thing about it is that it only costs a fraction of the cost that you'd end up paying if you chose to go with a full asphalt replacement.
Choosing the Right Sealcoating Team
With more than 28 years of sealcoating experience, there's no other contractor in the Duluth, MN area that has the type of background that our staff has to offer. Over the years, we've mastered both the residential and commercial sealcoating application process into a 8-10 step process. No corners are ever cut with our staff and attention to detail is a primary focus of ours throughout your sealcoating application. What sets us apart from our competition is that you won't have to call us back again next season asking for another sealcoating service because our materials and proven processes are built to last.
So, if your asphalt is damaged or if the look of your existing residential or commercial asphalt is worn down, it is time for you to invest in sealcoating. To reach out to our Duluth, MN Seal King Professional Sealcoating location, give us a call today at (715) 635-6056 and let our team get to work for you!