Skilled Sealcoating Contractors in MN
Posted In: Asphalt Patch Repair
Published On: November 23 2019
Written By: Seal King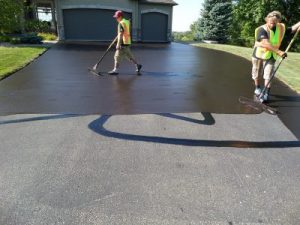 At Seal King Professional Sealcoating, we pride ourselves in being a company that strives for excellence and perfection. We provide sealcoating to protect your asphalt and quality repairs when your asphalt may need it most. We offer both residential and commercial services in Minnesota and beyond. If you are looking for the best sealcoating contractors in Minnesota, look no further than the quality contractors at Seal King Professional Sealcoating.
Sealcoating is a process in which our professionals apply a protective coating asphalt based pavement. This protective coating is used to uphold the integrity of your asphalt and aid in protection from Minnesota ailments like precipitation, oil and U.V. damage from the sun. Don't be fooled by cheap advertisements or schemes for sealcoating, either. Many companies offer this service without the knowledge and experience to back it up. At Seal King Professional Sealcoating, we only use the best sealer on the market to ensure the highest quality. Our Seal King sealer utilizes Raw products, high performance additives, and special blackening agents to create the perfect mix for every single job we do. If you are investing in the care of your asphalt, be sure to invest wisely. Don't waste your money on a sealcoating company that does a subpar job. Investing in Seal King Professional Sealcoating will ultimately give you the strongest protection for your asphalt possible.
Asphalt Repairs
Our sealcoating process is methodical. Every job is done in a rigorous step by step process. Through this process, we have found success at every job we do, including asphalt repairs. If your asphalt has already been damaged, it's crucial that you repair it quickly. Repairing your asphalt in a timely manner ultimately protects the rest of your asphalt and prevents more extensive damage. Whether you have a simple crack in the asphalt or you are in need of something more in depth, Seal King Professional Sealcoating has got you covered. We have a step by step process that leaves your asphalt looking clean and smooth at the end of every job.
We are so confident in all of our services that we offer the Seal King Promise. If you are not completely satisfied with our work, contact us before the winter and we will work to resolve the issue. Want to learn more about our services and how we protect your asphalt? Call Seal King Professional Sealcoating today or visit us online. Find the nearest Seal King location near you by looking online at www.sealking.com.