Small Parking lot Repair and Reseal Services
Posted In: Asphalt Patch Repair
Published On: July 16 2018
Written By: Seal King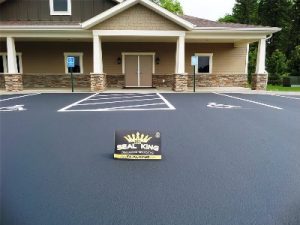 Do you own a small parking lot that is in need of repair? Are you a business looking to freshen up the look of your existing parking lot? At Seal King Professional Sealcoating, we are a commercial sealcoating company that can repair and reseal your parking lot using quality, effective sealcoating products. Our Hot Sealer is by far the best asphalt sealer on the market today! Don't let those scam Internet advertisements fool you. Seal King Professional Sealcoating offers the highest quality products and professional service to get the job done right the first time. With Locations in Minnesota, Wisconsin and Iowa, you will not have to look hard to find a Seal King Franchsee near you and we promise…you will be glad you did!
Small Parking Lot Repair
Asphalt is known for cracking and breaking. This is especially true in small parking lot settings as it can be exposed to lots of vehicle traffic, sunshine and other weather related ailments. Seal King Professional Sealcoating will come to your property and take a look at the damage that needs to be repaired. We can seal cracks, patch holes and even perform asphalt overlay. If you are noticing even the smallest of cracks in your parking lot, calling our experts right away can prevent an expensive repair in the long run. Small cracks allow all the dirt and water in the area to seep in and separate your asphalt even more. Almost every large pothole begins as just a small crack in a parking lot. If this happens to be the case for you and a pothole has already been formed, we can perform asphalt patching. In this case, we cut out the damaged area and patch it up, replacing the space with new asphalt. No matter how bad of shape your small parking lot may be, Seal King Professional Sealcoating can repair it quickly and efficiently.
Small Parking Lot Reseal
Resealing a small parking lot is important to do for any commercial property. Resealing your lot keeps your asphalt looking clean and professional, while also keeping it safe and protected from breakdown. Think of it as an added layer of protection that keeps your parking lot looking fresh all year long. At Seal King Professional Sealcoating, our great attention to detail never goes unnoticed. We use an 8 step commercial seal coating process that covers everything from power cleaning and sweeping in the beginning to the line striping at the end. Putting your trust in sealcoating services has never been easier. Seal King Professional Sealcoating is so confident in our quality and professional work that we guarantee our services. If you aren't completely satisfied, call us before the winter and we will work to make it right.
For more information about repair and resealing parking lots, call Seal King Professional Sealcoating today! To find a Seal King location closest to you, look in the right hand corner of this website for"Find a Location Near You". It's that simple!