Spring Cleaning For The Exterior of Your Home
Posted In: Seal Coating
Published On: April 16 2021
Written By: Seal King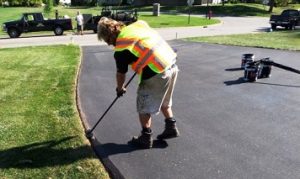 Spring is here! Finally! After a long winter cooped up inside, we are all happy to see the temperatures rise so that we can get back outside. It has been a year like no other – and many of us have spent more time in and around our homes than ever before. We may have focused on cleaning, organizing and projects inside our homes this winter, but now that it is spring, we can get outside and do some spring cleaning. Seal King can help you transform the outside of your home to look its very best.
Improve The Curb Appeal Of Your Home
Your driveway and sidewalks that lead up to your entryway is often a very overlooked area outside of your home. Over time they can develop cracks and become a tripping hazard and look dingy, dark and dirty. Seal King can come out and complete our professional sealcoating services that will literally make your driveway and sidewalk look brand new! Sealcoating protects your driveway and sidewalks from future damage and can improve overall curb appeal and increase potential resale value. Our sealcoating services are very affordable, and the entire process is fast and convenient. We follow a very thorough process and will never leave a mess on your property when we leave.
In addition to improving the overall look of your property, there are other benefits of sealcoating:
● It extends the life of your asphalt
● It keeps surfaces smooth and prevents trips and falls
● It protects your sidewalks and driveway from the harsh Minnesota elements
● It seals small cracks preventing them from getting larger
● It prevents future discoloration
Professional Sealcoating Services
Seal King has been helping residents and business owners improve the curb appeal of local homes and businesses for decades. We have built a strong reputation for strong customer service, affordable prices and high-quality sealcoating services over the last thirty years. We stand behind our work, offer environmentally friendly products, and will, if you have questions or concerns, always make it right for you. This is our Seal King promise to each and every one of our valued customers!
Seal King continues to work full time through the pandemic, and we have implemented safety protocols to keep our customers and our staff safe. If you want to partner with us to help you with your exterior spring cleaning, you can contact a Seal King conveniently located near you!