Springtime Sealcoating Services
Posted In: Driveway Sealcoating
Published On: April 01 2023
Written By: Seal King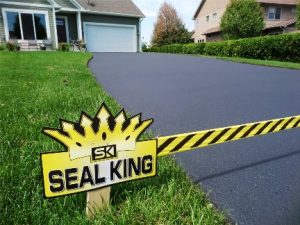 Now is the time of year when our thoughts turn from winter property maintenance to springtime improvements – like planting flowers or painting your driveway! After a harsh winter, you can help restore your property back to its former glory by applying driveway sealcoating.
Sealcoating involves applying a thin layer of sealing liquid over an asphalt surface to protect it against weather damage caused by rain, snow, sunlight, and vehicle fluids. While it won't repair existing cracks in your driveway, it will prevent future ones and extend its life expectancy. Other benefits include water and oil repellent – another major cause of driveway deterioration – as well as improving its aesthetic appearance.
Why Sealcoat In The Spring?
1. Extend your curb appeal. Anyone driving around Minnesota the past few weeks has likely noticed how poorly local roads look. Winter can be tough on asphalt, whether it's highways, driveways or parking lots. By scheduling driveway sealcoating now in the spring, you can improve your property's curb appeal into summer and fall months.
2. Prices are often lower, and scheduling is easier. Driveway sealcoating prices tend to be lower in the springtime when work hasn't yet started up full speed. Furthermore, since sealcoating season doesn't really begin until summer, you have more control over when and how your work gets done – rather than waiting until someone else's schedule opens up for you!
3. Better weather. Scheduling driveway sealcoating for the fall can reduce its effectiveness due to cold temperatures, but late spring temperatures tend to be warm enough that there's no need to worry about freezing. Furthermore, starting in early season means you won't run out of time like in the fall when sealing is more challenging.
Expert Sealcoating Services
Seal King has been in the pavement maintenance industry since 1991 and prides itself on their high quality of work. All franchise locations carry full liability insurance, and each crewmember is protected under worker's compensation insurance. At Seal King, we utilize an internal multi-point quality control checklist that is often copied but never duplicated by competitors. If you are not completely satisfied with your Seal King application, call us before the season ends, and we will correct the problem at no additional charge to you! For further inquiries about our residential asphalt sealcoating services in Minneapolis, Minnesota, don't hesitate to call Seal King Professional Sealcoating at (952) 469-6639 today!