Springtime Sealcoating Services
Posted In: Residential Sealcoating
Published On: April 27 2022
Written By: Seal King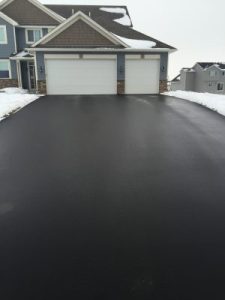 The end of winter is just a few weeks away, but given the weather we've been having, it already feels a bit like spring. It's the time of year where our thoughts turn from winter property maintenance to springtime property improvements. And while you're planting new flowers and putting up a new coat of paint, spare a thought for your driveway. After a harsh winter, you can help restore your property to its former glory through a process known as driveway sealcoating.
Sealcoating involves adding a thin layer of sealing liquid over a paved surface to protect against the damage caused by rain, snow, sunlight, and vehicle fluids. It won't repair cracks in the driveway, but it will prevent future damage and extend the life of your asphalt. Other benefits include water and oil repellent, one of the biggest factors in driveway deterioration, as well as enhancing the appearance of your driveway.
Why Sealcoat In The Spring
1. Extend your curb appeal: Anyone who's driven around Minnesota over the past few weeks has probably noticed that local roads aren't looking great. Winter is tough on asphalt, whether you're dealing with highways, driveways, or parking lots. By scheduling driveway sealcoating in the spring, you can improve your property's curb appeal into the summer and fall.
2. Prices are lower, scheduling is easier. Driveway sealcoating prices are often lower in the springtime when the work season hasn't yet picked up steam. And because the sealcoating season doesn't kick into high gear until summer, scheduling work in the spring allows you to work according to your schedule, rather than your contractor's calendar.
3. Better weather: If you schedule driveway sealcoating for the fall, cold weather can lessen the effectiveness of the sealer. But in late spring, temperatures are typically warm enough that you don't need to worry about freezing. And by starting in the beginning of the sealing season, you won't need to worry about running out of time the way you would during the fall.
Expert Sealcoating Services
Seal King has been in the pavement maintenance industry since 1991 and maintains a high quality of workmanship. Seal King and its franchise locations all carry full liability insurance and ensure every crewmember is covered under worker's compensation. At Seal King, we use an internally developed multi-point quality control checklist that is often imitated, but never duplicated by our competitors. If you are not completely satisfied with your Seal King application, call us before the end of the season and we will correct the problem at no extra cost to you!
For more information about our residential asphalt sealcoating services in Minneapolis, feel free to give us a call today. Contact Seal King Professional Sealcoating in Minneapolis, Minnesota today at (952) 469-6639.