St Cloud Sealcoating Company
Posted In: Asphalt Maintenance
Published On: September 24 2016
Written By: Seal King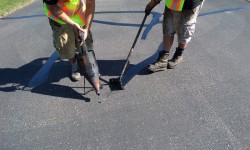 Looking for an affordable way to upgrade your existing asphalt without having to pay the expensive price tags associated with replacing your concrete? At Seal King Professional Sealcoating, we want individuals living or running a business in St. Cloud, MN to know that there are alternatives to asphalt replacement. That affordable option is sealcoating. Team up with our staff today and let us enhance, protect and repair your existing driveway or parking lot. You'll be amazed by the brand new look that comes with our high quality sealcoating services.
The King of Sealcoating
Anytime you work with a contractor, you want them to be experienced, reliable and caring. When it comes to our expert sealcoating staff, we'll do everything possible to ensure that you have a great experience throughout the entire sealcoating process. With over 20 years of experience in the sealcoating field, we have mastered the process from start to finish no matter the size of the project. All of our crews are fully insured to provide you peace of mind. By choosing our crew, you'll receive the highest performing products on the market. Our 10 point checklist is far superior to the $99 sealcoating special that you see our competitors offering. What they fail to mention is that you'll be needing another application of the $99 sealcoating special way more quickly than you will with our process.
St Cloud Sealcoating Company Promise
Our customers are the number one priority when it comes to our business. If you are not fully satisfied with our sealcoating work, that reflects poorly on our staff. We are committed to our customers and if you are not completely satisfied with our work, let us know before the winter and we will work to fix the issues. We will treat your Minnesota property with extreme care throughout the entire sealcoating process.
High Quality At An Affordable Price
Too many sealcoating contractors take shortcuts in order to lower the price that they charge individuals. While you may see a cheap $99 deal, you will end up spending much more down the road because of its poor quality. At Seal King Professional Sealcoating, all of our products used can hold up against the brutal Minnesota weather. By paying just slightly more for our services, your sealcoating service will go through our 10 step checklist and will keep your asphalt protected and smooth for the long haul.
Before you pay the big bucks to replace the existing asphalt on your property, consider sealcoating services from our dedicated staff at Seal King Professional Sealcoating. This more affordable option can provide you the same results at a much cheaper price. If you live in the St. Cloud, MN area, give our local office a call at (952) 469-6639 to request a free quote.