Superior Sealcoating Services in Lakeville, MN
Posted In: Driveway Repair
Published On: September 10 2020
Written By: Seal King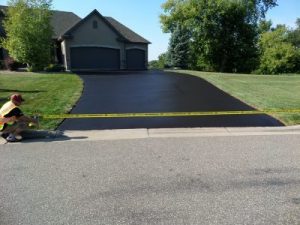 There are a few companies offering sealcoating services around Lakeville, MN, but none that are able to offer the superior sealcoating services as our team at Seal King Professional Sealcoating. Whether you're in need of residential or commercial sealcoating services, our experienced team has you covered.
With so much that is going on in the world these days, choosing local when it comes to your home improvement projects has never been more important. Dating back to 1991, our experienced sealcoating team has been providing sealcoating services to the Lakeville, MN area. Over these many decades, we've developed a reputation built on high quality materials, top-notch customer service and an extreme focus on the details. Unlike many other sealcoating companies in the area, you won't have to call us back every year to ask for another sealcoating application.
Seal King Promise
Another key feature that sets our staff apart from our competitors is that our sealcoating services are backed by the Seal King Promise. If our clients are not 100% satisfied with the Seal King sealcoating application, we'll come back to correct the problem at no additional cost as long as you contact us before the end of the season. This commitment to our work shows just how confident that we are in our residential and commercial sealcoating services. Each one of our projects goes through a 10-point quality checklist to ensure that the project is completed to our level of satisfaction, as well as yours.
Environmentally Friendly Applications
All of the sealcoating products and materials that we use on our residential or commercial projects are environmentally friendly. We are certified by the MN Pollution Control Agency and taking care of our environment is a high priority for all of our staff. There are many sealcoating companies in the area that don't concern themselves with the overall health of our environment. In turn, the materials that they utilize can cause significant damage to this beautiful area over time. That's not a practice that our sealcoating professionals want to contribute to.
So, if you are looking for a sealcoating company around Lakeville, MN that offers reliable, affordable and superior sealcoating services, look no further than Seal King Professional Sealcoating. To learn more about our sealcoating services or to request a free quote on your residential or commercial property, contact our Lakeville office by calling (952) 469-6639.