The Difference Between Sealcoating And Repaving Asphalt
Posted In: Seal Coating
Published On: August 05 2021
Written By: Seal King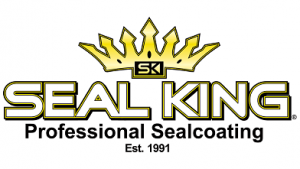 "We really need to repave our drive and parking spaces." How many times have you heard this at your home or business? When employees, clients, or even family members are noticing it's time for a facelift out front, how do you know your options? A new parking lot or driveway can be a big expense. A professional sealcoating provider, however, can provide an alternative to a full replacement of your current asphalt. If you live or work in Maple Grove Minnesota give Seal King a call before you decide to repave your home or business.
Repaving requires breaking apart and disposing of the existing asphalt. Following its removal, repaving also involves an entirely new application of hot asphalt to the cleared surface. The process of a complete resurface may not be necessary depending on the condition of your drive or lot. The asphalt polymer and black diamond coal slag in an industrial sealer like that used by Seal King may be all you need to give your existing pavement new life!
A Simpler Solution
Sealcoating is a solution for refinishing and protecting your existing asphalt. There are several different applications of sealcoating and Seal King will determine which is right for your drive or lot. Asphalt-based pavement can take advantage of sealcoating, rather than having to replace the drive entirely. With asphalt sealcoating, many who enter your property will think that the area has been repaved entirely due to its fresh, new look. An experienced and trusted sealcoating provider like Seal King will provide an accurate assessment of your drive or parking lot to determine your need for asphalt repair ahead of the sealing.
Not All Sealcoating Is Created Equal
While sealcoating protects and finishes existing asphalt, sealcoating is not intended to fill large cracks or holes in the pavement. Sealcoating protects the asphalt from UV rays, oils, fluids, salts, and other contaminants that otherwise lessen the overall life of the pavement. There is no point in just sealing over broken pavement, although some unprofessional companies may do so anyway. Unfortunately, customers end up with the same issues soon after when they become the victim of shoddy sealcoating.
Whatever the current condition of your pavement, Seal King will assess your drive and lot's need for repair prior to sealcoating to ensure it is effective in the long run. For the highest quality sealcoating materials to protect and extend the life of your asphalt, find your local Seal King location or get in touch online today!