The Importance Of A Sound Garage Apron
Posted In: Garage Apron Repair
Published On: August 19 2023
Written By: Seal King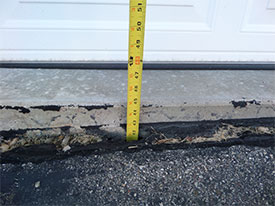 Your home's entrance is more than just a point of entry – it's a reflection of your property's overall aesthetics and value. If your garage apron is showing signs of wear and tear, it's time to consider the transformative benefits of Seal King's Garage Apron Repair service. With locations spanning across Minnesota, we're your trusted partner in enhancing your property's curb appeal and functionality.
Repairing Your Garage Apron For A Welcoming First Impression
A well-maintained garage apron is essential for ensuring a smooth transition between your driveway and garage. Cracks, potholes, and uneven surfaces not only detract from your property's visual appeal but can also pose hazards to vehicles and pedestrians. Seal King's Garage Apron Repair service addresses these issues promptly, creating a safe and inviting entrance to your home.
When you choose Seal King, you're choosing expertise and precision. Our experienced team assesses the condition of your garage apron to determine the best course of action. Whether it's filling cracks, patching potholes, or resurfacing the apron, our tailored solutions are designed to restore both functionality and aesthetics.
Quality materials and craftsmanship: At Seal King, we're committed to delivering lasting results. Our Garage Apron Repair service utilizes top-quality materials and proven techniques to ensure the repairs stand the test of time. With our skilled craftsmen at the helm, you can trust that your garage apron will be restored to its former glory, making a positive impact on your property's overall appeal.
Enhanced curb appeal: Your garage apron is often the first thing visitors notice when they approach your home. A well-maintained apron can instantly boost your property's curb appeal, creating a welcoming atmosphere and leaving a lasting impression. Whether you're planning to sell your home or simply want to enhance its aesthetics, Seal King's Garage Apron Repair service is a valuable investment.
Cost-effective solution: Ignoring garage apron issues can lead to more extensive and costly repairs in the future. Seal King's Garage Apron Repair service provides a cost-effective solution to address minor problems before they escalate. By investing in timely repairs, you're safeguarding your property's value while minimizing future expenses.
Your trusted partner in property enhancement: Seal King's Garage Apron Repair service goes beyond fixing surfaces – it's about elevating your property's visual appeal and functionality. With our commitment to quality, meticulous craftsmanship, and extensive experience, you can trust us to deliver exceptional results.
Ready to transform your garage apron into a welcoming entrance that leaves a lasting impression? Contact Seal King today and discover how our Garage Apron Repair service can enhance both the functionality and aesthetics of your property.