The Secret To Long-Lasting Asphalt Surfaces
Posted In: Asphalt Sealcoating
Published On: August 26 2023
Written By: Seal King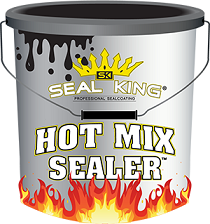 When it comes to safeguarding your driveways, parking lots, and other paved surfaces, a little proactive care can go a long way. Enter Seal King, the trusted name in seal coating with multiple locations across Minnesota. Today, we're excited to shed light on one of our flagship services that promises to extend the life of your pavement while enhancing its aesthetics – our premier seal coating service.
The Power Of Asphalt Seal Coating
Imagine a protective shield that guards your pavement against the elements – that's the magic of seal coating. Over time, exposure to harsh weather, UV rays, and daily wear and tear can take a toll on your pavement's integrity. Our seal coating service acts as a barrier, preventing water penetration, reducing the risk of cracks, and slowing down the inevitable process of deterioration.
Expertise that sets us apart: At Seal King, we take pride in our seasoned team of professionals who are well-versed in the art of seal coating. With years of experience and a commitment to excellence, we bring unparalleled expertise to every project. From driveways to commercial lots, we tailor our seal coating approach to suit the specific needs of each surface, ensuring optimal results that stand the test of time.
A boost to aesthetics: Beyond protection, seal coating offers an aesthetic boost to your paved surfaces. Our high-quality sealants revive the deep, rich color of asphalt, giving your pavement a fresh, well-maintained appearance. Whether you're a homeowner looking to enhance your curb appeal or a business owner aiming to make a positive impression, our seal coating service can transform the look of your property.
Cost-effective investment: In the world of pavement maintenance, prevention is key. Seal coating is a cost-effective way to extend the lifespan of your pavement, saving you from more significant repair or replacement costs down the line. By addressing minor cracks and imperfections early on, you're making a wise investment that pays off in the long run.
The Seal King Promise: When you choose Seal King's premier seal coating service, you're not just getting a protective layer – you're getting a promise of quality, longevity, and dedication. Our state-of-the-art products, meticulous application process, and unmatched attention to detail set us apart as the go-to seal coating experts in Minnesota.
Preserve the beauty and functionality of your paved surfaces with Seal King's premier seal coating service. Whether it's your home driveway or a commercial parking lot, our team is here to provide you with the protection and aesthetic enhancement you deserve. Contact us today to experience the Seal King difference firsthand.