Top Facts To Know About Sealcoating
Posted In: Sealcoating Company
Published On: August 26 2022
Written By: Seal King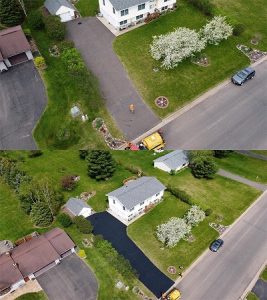 As you look out your window at your driveway, you may be wondering how to protect your investment and maintain its appeal and durability. Sealcoating is a type of sealant used to protect asphalt pavements. In conjunction with crack repair, sealcoating keeps your driveway strong and intact when applied every two to three years. It serves as a protective barrier against the elements and vehicle traffic. Sealcoating also enhances the appearance of pavement with an even black finish. There are a few things to know about sealcoating before you start:
Sealcoating is not a one-time structural repair that can restore damaged asphalt. If your driveway has cracks or prior repairs, they will still be visible after sealcoating. While your driveway will be black after the application, sealcoating cannot "smooth out" rough areas or fill cracks larger than ¼" wide.
Thicker Is Not Better
While it sounds logical to apply a thick layer of sealcoat to your driveway, thick coats don't cure evenly. This can cause tracking and surface cracks and ultimately reduce the life of your sealcoating project.
A brush application provides consistent coverage each time. It promotes higher quality adhesion and cleaner edges. It also prevents black overspray from tainting your lawn and any decorative landscaping surrounding your driveway.
Sealcoating Saves Money
By maintaining your driveway with fresh sealcoating every two to three years, you prolong the life of the asphalt. Along with routine crack repair, sealcoating delays deterioration which can lead to the expensive project of your whole driveway needing to be replaced.
The wear and tear of vehicles has its effects on the surface of your driveway but it's the extreme weather that really takes a toll. In the summer, UV rays from the sun dry out asphalt by contributing to the oxidation. During winter months, any cracks that are filled with water will expand once the water freezes. Sealcoating helps protect your driveway from the elements.
Expert Sealcoating Services In Minnesota
Seal King has been in the pavement maintenance industry since 1991 and maintains a high quality of workmanship. Seal King and its franchise locations all carry full liability insurance and ensure every crewmember is covered under worker's compensation. At Seal King, we use an internally developed multi-point quality control checklist that is often imitated, but never duplicated by our competitors. If you are not completely satisfied with your Seal King application, call us before the end of the season and we will correct the problem at no extra cost to you!
For more information about our residential asphalt sealcoating services in Minneapolis, feel free to give us a call today. Contact Seal King Professional Sealcoating in Minneapolis, Minnesota today at (952) 469-6639.