Top Quality Sealcoating Services
Posted In: Driveway Sealing Companies
Published On: November 15 2021
Written By: Seal King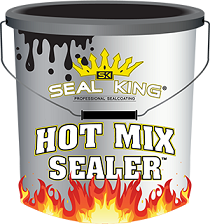 Just like everything in life – you get what you pay for. That goes for clothing, your car, furniture and electronics. Each item that you purchase is an investment. If the quality matters, which it usually does, it may be best to consider that as you make your decision about the purchase. Quality is also important for anything that you do to improve your home. Exterior repairs are especially important because they must withstand the effects of wind, sun, rain and, of course, snow. Your driveway takes a beating just like the siding on your home. Seal King offers professional, high quality sealcoating services for the asphalt surfaces around your home. We use a "Hot Mix Sealer" that we have developed for our customers…and only our customers. This sealer is second to non!
Experienced Sealcoating Company In MN, WI And IA
Our company does not cut corners like many of our competitors. Instead, we have built our success on the exact opposite. We use high quality sealer so that you can trust that if we do a job for you, it will last for many years to come. We follow a careful 10-step process for each job we take on, so that the work that we do is thorough, complete and done correctly the first time. We have nearly thirty years of experience in the sealcoating industry. Many of the other companies in the area may come and go, but we are here to stay, with countless locations all over the area to meet your needs.
The last thing that you want to have happen when you decide to make an investment in your home is for the work to be shotty or just done poorly, which makes your original problem even worse. When you work with Seal King, our crew will stand behind their work and if you are not satisfied, we view it as our responsibility to fix the issue. That is our Seal King Promise. We have slowly grown and gained success, always keeping our customers and high-quality services at the center of our work.
Residential Sealcoating Services
Residential sealcoating services can protect your driveway, sidewalks and/or parking area from the wear and tear of foot and vehicle traffic, from intense sunlight, wind, rain and snow that can cause discoloration and cracking. The sealcoating process keeps water from being able to penetrate the asphalt and develop cracks and potholes, which can be treacherous for driving or walking. Seal King makes it easy to make an excellent investment in the exterior of your home. Find a convenient location for you and give us a call today!