What Is Sealcoating?
Posted In: Commercial Sealcoating
Published On: January 01 2019
Written By: Seal King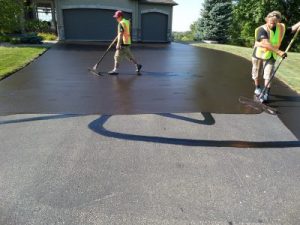 Sealcoating is the process of applying a protective coating to an asphalt surface in order to protect it from the elements, extend its life and prevent dangerous cracks from forming. Seal King specializes in offering residential and commercial sealcoating services for those in Minnesota, Wisconsin and Iowa.  We use our exclusive Seal King "Hot Mix Sealer" for each and every one of our sealcoating jobs, which combines a special blend of the best possible raw products, high performance additives, and special blackening agents. Our high quality "Hot Mix Sealer" is one of the things that sets Seal King apart from other local sealcoating companies.
The Sealcoating Process
The extreme weather of the Midwest takes its toll on the exterior of our property including our sidewalks and our driveways. The weather can cause degradation of your asphalt, as well as discoloration and cracking over time. Cracks may start small but grow larger and larger eventually causing a tripping hazard and a true eye sore. Sealcoating fills these small cracks before they grow and is a safe and effective way to protect your asphalt driveway and sidewalks and keep them safe and looking their best. This small investment in your asphalt can improve the overall curb appeal of your home and extend the life of your asphalt.
Seal King has been in the sealcoating business for many years. We follow the same 10 step process for each sealcoating job.
Power Edging
Power Edge Cleaning
Power Sweeping and blowing
Oil Spot Treatment
400 degree rubber crack filling
400 degree joint filling
Driveway edging brush
Professional Seal King Sealer
Brush application
Barricade driveway
Keep your Asphalt Driveway Looking its Best
Seal King also offers the Seal King Promise to each of our customers. We provide each of our customers with the best possible workmanship using only the best products and techniques. We offer responsive customer service, and, of course, affordable pricing. We use environmentally friendly products and always stand behind our work. If you are not completely satisfied with our work, just contact us and we will make it right. Other companies in the area may boast $99 sealcoating deals, but their work is often incomplete and they often use products that are not of the quality of Seal King's high quality sealer.
Sealcoating is an excellent way to protect your asphalt surfaces and keep your property looking its best. Seal King has many locations all over Minnesota, Wisconsin and Iowa and would be happy to give you a free quote.