Winterizing Your Driveway
Posted In: Sealcoating Company
Published On: January 10 2022
Written By: Seal King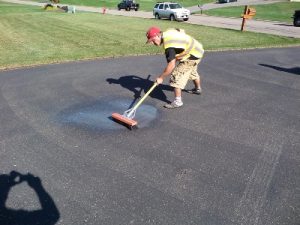 Thinking ahead to the freezing winter days just around the corner, what is the biggest concern we have about our driveways? Does the word "slippery" come to mind? It's quite practical to be anxious about your driveway's traction in a season fraught with snow and ice. It's also normal to wonder how your driveway will fare during months that typically do the most damage to asphalt. While you are winterizing your home, there are steps you can take to get your driveway ready for winter. Seal King is the company to call.
How Cold Weather Affects Your Driveway
Freezing and thawing can cause problems with your driveway. During any type of precipitation, moisture penetrates the asphalt surface, making it softer due to a loss of aggregates. Water expands as it freezes and causes cracks, potholes, and depressions. During the freeze/thaw cycle, the damage increases exponentially.
Melting Snow
During the day, asphalt absorbs the sun's heat, causing the snow on your driveway to melt and pool. At night it freezes, forming "ice dams" where the water backs up the next day. Pooling water on the asphalt surface is destructive.
Plowing And Shoveling
Scraping the snow and ice from your driveway's surface is a necessity, but it can loosen the aggregate if the plow blade is set too low or the shovel is too sharp.
How To Prepare Your Driveway For Winter
Take these steps to increase your driveway's chances of surviving over the winter, while keeping it safe for foot and vehicular traffic.
● Clear away leaves, twigs and organic debris that can attract moisture
● Power wash to remove oil and grit
● Repair current cracks, pits, and potholes
● Sealcoat your asphalt for extra protection
● Use calcium-based ice melts
● Use shovels or equipment designed specifically for snow removal
Rely On The Professionals For Winterizing Your Driveway
Preparing your driveway for winter often requires services that can only be delivered by professionals. At Seal King, we understand that you have choices, so we work hard to set ourselves apart from the local competition. There are many Seal King locations all over the Minnesota, Wisconsin, and Iowa area, so you will have no trouble finding a location near you. In addition, we use a high-quality product and efficient and thorough techniques. Our staff follows a consistent 10 step process to ensure the best workmanship and offer every client the Seal King Promise – if you are not 100% satisfied with our work, for any reason, we will make it right!