Wisconsin Asphalt Repair
Posted In: Asphalt Maintenance
Published On: December 11 2018
Written By: Seal King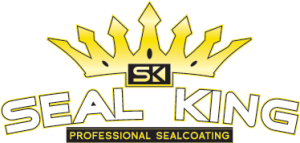 Seal King Professional Seal Coating is Wisconsin's answer to asphalt repair problem.  Our technicians are trained in both the art and science of asphalt repair.  If your driveway or business parking lot has been ravaged by the weather and has potholes that pose problems for automobiles, your need for asphalt repair sealcoating services may be acute.  If your asphalt surface is showing signs of degradation—for instance, if you are seeing small cracks becoming larger or small holes that are chipping further at the margins—your asphalt problems may not require immediate attention, but it may be worth your time to have our team pay you a visit for a consultation about the best way to proceed.
Professional Asphalt Repair Services, Wisconsin
Our promise to you is to only recommend the work you need to keep your asphalt surface safe and as visually appealing as you expect it to be.  Our experience allows us to provide you with expert repairs to achieve the results you want.  A well maintained driveway, walkway, or parking lot can be obtained, but most people simply do not have the tools or the training necessary to properly maintain an asphalt surface.  Property owners should feel confident in their asphalt repair contractor, and Seal King has worked hard to earn a reputation as a trustworthy, cost-effective, and reliable contractor.
Wisconsin Asphalt Repair
When it comes to repairing your asphalt surface, we will do the job properly the first time.  Our crack filling process can go a long way toward helping you avoid more major problems down the road.  If your concrete surface is severely damaged, it may require a more comprehensive approach, but we have the capacity to do those jobs for you too.  Once the cracks, pits, and deeper holes have been filled, the key to keeping your asphalt surface in good shape for years to come is preventing water and grit (such as dirt and sand) from penetrating the surface.  Once those substances penetrate your asphalt surface, it is only a matter of time before they begin to weaken the bonds and erode the surface to the point that it becomes a safety concern.
So, if your asphalt surface has more than just cracking, we can employ a patching process that involves cutting out the affected area, removing the debris and cleaning the edges of the area, and then filling the patch area with hot asphalt.  Once that process is completed, we will do a final compaction to ensure that the surface is flat and its integrity is intact.
Asphalt Repair and Sealcoating Services
If you have questions about asphalt repair, sealcoating services or or would like a free quote, we would be happy to schedule a convenient time to come for a consultation. We have convenient Seal King locations all over Wisconsin so you will have no trouble finding a location near you.