Wisconsin Parking Lot Repair
Posted In: Parking Lot Repair
Published On: January 07 2019
Written By: Seal Coating Team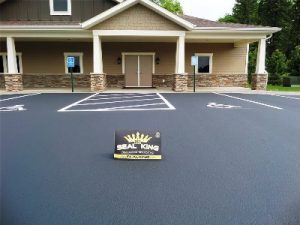 Is your Wisconsin parking lot in need of repair? Don't wait for it to get any worse. Let Seal King Professional Sealcoating make it better. At Seal King Professional Sealcoating, we specialize in asphalt repair and can fix any problem you may have, big or small. Serving areas all around Wisconsin, when you notice a problem in your asphalt, our local company should be the first and only call you need to make.
Crack Sealing
If there is a crack in your asphalt it's important to get it seen and filled quickly. All too often, commercial properties call us complaining about large pot holes that started off as just tiny little cracks. When a crack is present, it means that your asphalt is vulnerable. It means that water and dirt have started to collect and spread your asphalt further. Seal King Professional Sealcoating will come and take a look at those cracks, while also filling and sealing them to prevent anything from getting into your base layer and causing larger problems down the road.
Asphalt Patching
Perhaps your Wisconsin parking lot has larger damage than a simple crack that you can fill. There's no sense in wasting your entire parking lot! Asphalt patching is a simple procedure we do to repair your asphalt by alienating the specific problem. We will simply cut the damaged area out and fill new asphalt in its place. Not only does this save you time and money, it can prevent you from having to shut down your parking lot completely.
Asphalt Overlay
Along the same lines of saving you time and money, an asphalt overlay can be an option to Wisconsin parking lots that have a deteriorating surface. Rather than wasting your time, energy and money by tearing up your existing asphalt, an asphalt overlay can be used to give your parking lot a beautiful, durable new look.
Parking Lot Repair Wisconsin
No matter what type of Wisconsin parking lot repair service you may need, Seal King Professional Sealcoating can help you restore your parking lot and keep it looking brand new. We have been serving our community since 1991 and are known for our high quality standards and premium products. If you are searching for a Wisconsin parking lot repair company, Seal King Professional Sealcoating has got you covered from start to finish. For more information about Seal King Professional Sealcoating and our parking lot repair services, call your nearest Seal King in Wisconsin or look up your closest location online at www.sealking.com.